THE EXPERTISE OF A 100% NATURAL AND ORGANIC THERMAL SPA
An original and natural treatment menu to nourish all your senses of well-being
Aïga thermal spa is the perfect coming together of wellness treatment expertise using natural thermal water and body care treatments based on the soothing goodness of flowers and seasonal vegetables, the raw materials for the 100% organic and local Beauty Garden cosmetic range.
The natural thermal water of Châtel-Guyon for your well-being
All hydrotherapy treatments in our spa use the natural thermal water of Châtel-Guyon.
Naturally emerging in the heart of our spa town, the mineral waters of Châtel-Guyon have a very particular composition conducive to the relaxation and regeneration of your body.
They are particularly rich in magnesium and silicon and contain many essential trace elements.
Aïga thermal spa – equipped for your relaxation
Discover an elegant spa with treatment areas dedicated to your well-being:
7 cosy and private massage cabins, one of which is equipped with a massage bed with warm quartz sand
19 water or wet treatment cabins (baths, showers, wraps, etc.)
1 thermal water pool of 150 m² with swan-neck jets, counter-current swimming lane, submerged loungers, etc.*
1 outdoor hot tub*
2 steam rooms*
2 experiential showers (music, lights, jets, etc.)*
1 outdoor solarium
1 herbal tea room
1 black-light relaxation room*
1 cardio/fitness gym*
1 coaching room*
1 aqua bike pool*
* Access subject to availability. Access to the steam rooms is not recommended for pregnant women, people with a heart condition or suffering from epilepsy, circulatory disorders or hyper/hypotension.
All-organic, beautiful and local cosmetics!
From the selection of ingredients to processing, the products used in our spa (in addition to the thermal water) are derived from 100% natural and organic plant active ingredients for creative and active blends.
The whole Beauty GARDEN range is eco-designed, authentic and respectful of the environment right down to its packaging.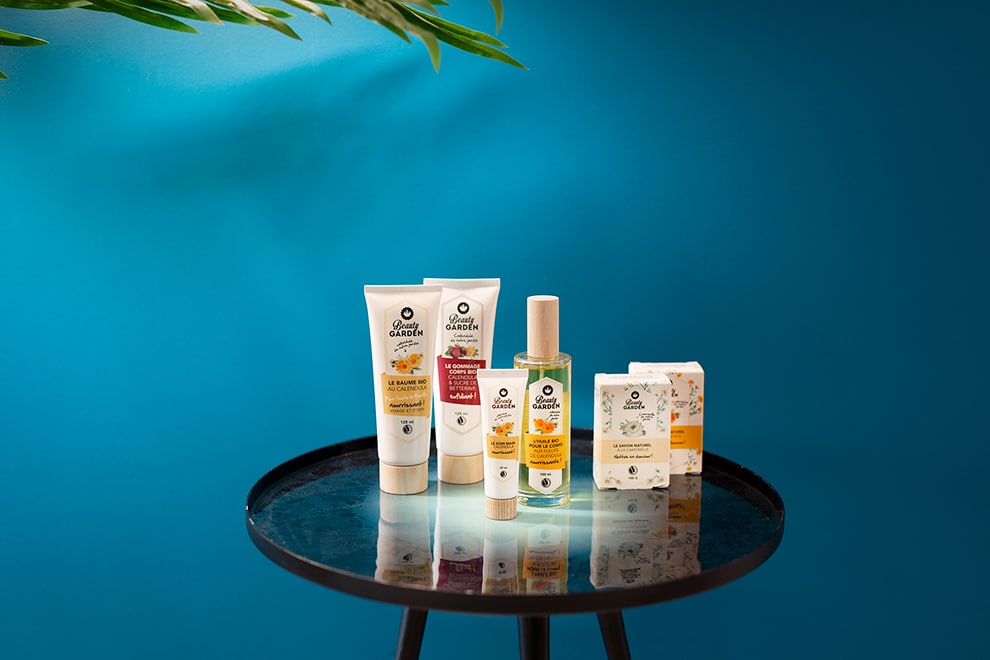 Wellness and health package 5 half days
You wish to relax and to relieve muscle tension… Find the harmony between the body and the spirit, and take care of your body and its wellbeing during a one week break. Our short stays are designed for you!
Wellness getaway 1 to 2 half days
Inspired by the thermal expertise of Chatel-Guyon, each package of one or two half days, according to your preference, is designed to offer you a unique sensory experience thanks to the subtle combination of the benefits of thermal water with plant active ingredients of 100% organic and local cosmetic products.
100% natural à la carte treatments
At your own pace and according to your desires, enjoy all the properties of Chatel Guyon natural thermal water and the benefits of organic flowers and plants from the vegetable garden, from our à la carte treatments.
Aïga resort résidence 4* : Take an all-inclusive wellness break
For your wellness getaway, opt for absolute comfort and stay right in the heart of the resort!
Aïga resort spa thermal : useful information
Organise your relaxation and wellness stay thanks to our practical advice (opening hours, equipment,…)